Have you ever taken the time to read your cat or dog food labels? If you have, you may be surprised by all of the fillers. Tim Petersen was and he decided to do something about it. So, with the strategy of 'Real. Honest. True.' Mr. Petersen and his 2 sons started Wild Calling.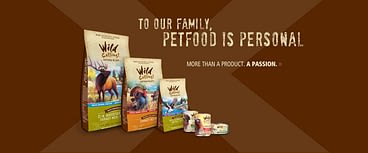 The packaging of Wild Calling reflects their passion to create food that is a combination of 'dietary science and natural food found in the wild'. The Petersen's started with a canned food line and were surprised by the response they got from consumers and distributors. Now they have expanded with a dry dog food.
Each cat and dog entree contain 96% meat options of: wild elk, salmon, bison, trout, duck, venison, lamb, turkey and more. The other 4% consists of prebiotics, probiotics, omega 3 and 6 and vitamins C and E each added with your pets health in mind. To top off all these wonderful, healthy ingredients, every flavor option is gluten, grain, artificial flavor and artificial color free!
As you can see by the ingredients, the Petersen's' main goal is to help your cats and dogs live longer, healthier lives. They run their company with the same passion they have for their pet food. We look forward to having them with us at America's Family Pet Expo!