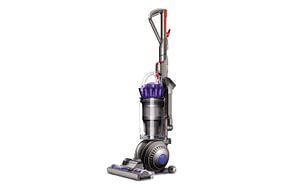 If you've got a hairy situation at home with your pets, Dyson, one of the most trusted names in the vacuum industry, has a pet-friendly solution to all of that shedding from your furry companions. With twice the suction of any other vacuum and a performance that cleans better across all carpets and hardwood floors, the Dyson DC65 is engineered to clean your entire home hassle and headache free. Find out more about Dyson at their exhibitor booth this year at the OC Fair and Event Center, April 25to 27 for one of the biggest highlights in the pet industry each year, America's Family Pet Expo.
Employing cutting edge technology that includes counter-rotating heads with brushes that suck-up hair and dirt without tangling instead of the typical single brush bar that overtime gets wrapped up and locked from use due to tangles, the Dyson DC65 is an excellent option for any household with pets. The two interior heads are made from flexible thermoplastic polyurethane with integrated brushes on each side that split the airflow between the mouth of the vacuum and the turbine and safely store hair, dirt, and dander away for easy disposal. The Dyson Tangle-Free Turbine can also be combined with most Dyson vacuums, including their ever-popular DC65 model.
With a streamlined design and maneuverable head, Dyson seeks to make vacuuming an easy task for any member of the family. This means that when it comes to pitching in for pet care at the house, it's easy to assign vacuuming as part of your pet care routine.
For more information on Dyson products, please visit: www.dyson.com.
or check out their booth at America's Family Pet Expo, the world's largest pet and pet product expo for all you need to know about owning a happier, healthier pet: www.petexpooc.org.