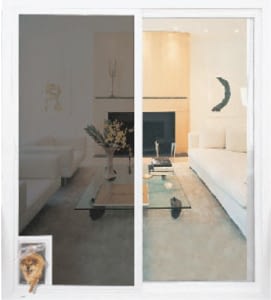 DanJo is a window and door company that provides the highest quality windows in a variety of customizable styles and sizes for your home. With energy efficient designs, DanJo helps your home stay beautiful while conserving energy.
For your family pet, Danjo specializes in creating and installing smart solutions so your pup can have easy access to the yard whenever you're away. With five sizes of pet doors, from small to medium, large to extra and super large, DanJo Windows and Doors takes the hassle out of installing a patio pet door yourself.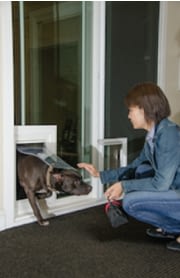 These pet doors are made out of impact-resistant super-strong thermo-plastic (ABS) to handle the rough and tumble comings and goings of any energetic pup. With clear flaps, the design also allows pets to see if the slide stopper is in place to prevent any neck injuries.
For peace of mind, a floating bottom threshold guarantees a perfect seal every time so there's no fretting about neighborhood cats or raccoons finding their way into your kitchen (eek!). Plus all flaps are help in place by magnets to reduce escaping air and preventing escaping heat or cool air from your home.
Danjo Window and Doors provides excellent solutions for entrances and exits for your pup into the outside world.
For more information and to browse an online gallery, visit: http://www.danjowindows.com, or visit their booth at America's Family Pet Expo April 25-27 at the OC Fair & Event Center in Costa Mesa, CA!