Google
With a name that everyone recognizes, Chammyz is an all-natural fiber apparel company that specializes in products for active people and recently they extended their offerings to include Chammyz for pets.
Utilizing their patented ultimate technology that absorbs and evaporates moisture, dries quickly, is lightweight, blocks UVA/UVB rays to protect from the sun, and is breathable, Chammyz delivers performance and style. For your pooch, this means the following best-selling products are now available: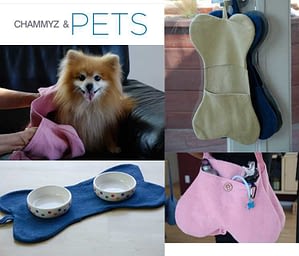 The first is a Doggy Spaw Towel. This towel is 9.5 times more absorbent than cotton and 100% green made from all natural bark. For the dog on the go, at the beach, or after a bath, Chammyz Doggy Spaw Towel is an easy care product that allows you to clean pup's paws with one wipe.
The second versatile product is a Surf & Spaw Robe. As an eco-friendly, super-absorbent dog robe, drying your dog after a wash or swim will most likely become your pup's next favorite treat.
Check out all of Chammyz products, for your family and furry ones alike at www.chammyz.com or visit their booth at America's Family Pet Expo April 25-27, 2014 at the OC Fair & Event Center in Costa Mesa, California!