From throw toys to pet beds, cat scratchers to fashion statements, at Best Pet Products Inc. one can expect to find just that, the best pet products available on the market. As an innovative supplier of helpful and original pet products, Best Pet Products Inc. is a company with over 15 years of pet retail experience and over 25 years of design development working in the pet supply and toy industry.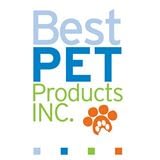 Here's a highlight of several recent top-sellers:
Rocket Dog
This plush dog toy with a jute tail and squeaker is sure to please pups of any size. It's tried and tested, durable, and able to withstand the tough love dogs show their toys.
Bling Ring
Diamonds are all of the rage in the fashion world and there's no reason why your four-legged pooch should miss out on being hip. Dots & Bling has created a line of fashionable dog collars perfect for smaller dogs. Plus, these collars not only look good, they  are made with premium stitching and a nylon front and faux leather backing to last.
Doggy Loggy
Although it's a funny name, Best Pet Products Inc.'s doggy loggy toy is a colorful, cute rectangle plush toy made for the best game of tug-o-war. With a soft polyester surface that resists ripping or tearing, small to medium sized pups will enjoy this fun toy the most.
Kitty Cake Cat Bed Condo
Now your cat can have a guest bed no matter where you go.  This kitty-friendly bed is a great place for your cat to snuggle up on a warm or cool night. Plus with an easy access zipper, the inner cushion is easy to clean.
To find out more about available products from Best Pet Product Inc., please visit http://www.bestpetproductsinc.com or stop by their booth at America's Family Pet Expo April 25-27, 2014 at the OC Fair & Event Center in Costa Mesa CA!