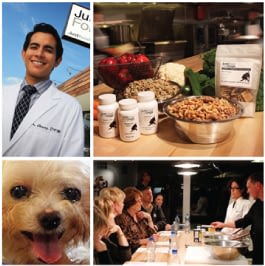 Every dog deserves its day and each day should be part of a long, happy, and healthy life. At Just Food For Dogs, their mission is to create food for your dog's daily routine, prescription foods for dogs with special health issues, and other custom formulated nutrients to help pups with liver disease, kidney disease, dogs that struggle with diabetes, cancer, and a range of additional problems.
At Just Food For Dogs, their nutrition team is led by Dr. Oscar Chaves, DVM, MRCVS, a member of the American Academy of Veterinary Nutrition, a professor of Clinical Canine Nutrition, and Director of the RVT program at Cal Poly Pomona. With years of experience in the pet industry, Just Food For Dogs' formulas rest on solid scientific backgrounds. One unique key to their food is that it's created out of the same ingredients you would use to cook your own meals. That makes for some tasty meals your pup is sure to love.
By using 100% USDA ingredients, Just Food For Dogs goes above and beyond any other all-natural dog food company. Plus, each and every recipe is developed by a team that includes a veterinarian, a nutritionist, a pet chef, and a cadre of dogs (to ensure the taste is right).
Find out more information about available products on thier website, JustFoodForDogs.com, or visit their booth at America's Family Pet Expo this weekend, April 25-27, 2014 at the OC Fair & Event Center in Costa Mesa, CA!