Golden Retrievers most definitely derive their names from their hearts of gold and Southern California Golden Retriever Rescue is dedicated to finding loving, lifetime homes for Golden Retrievers in need, regardless of conditions or circumstances. As a sanctuary that serves as a halfway house for injured, neglected, abused, or unwanted dogs, the SCGRR is a safe place where pups and dogs alike can rest and recuperate while on the search for a foster or permanent forever home.
As the third largest Golden Retriever Rescue in the country and the second largest in the Western Region. SCGRR runs on all volunteers and it's a big job. Each dog that comes in receives at a minimum, a vet exam, vaccinations, spay or neutering, additional medical treatment like hip surgery, broken bone repair, tumor removal, ear infection treatment, eye surgery, knee surgery and a host of other issues are addressed. Donations to SCGRR are 100% tax deductable and go towards the love and care given to these downtrodden pets.
All dogs at SCGRR are also never kenneled but instead placed in caring foster homes. They are temperament tested, socialized, and properly vetted prior to any adoption paperwork to ensure a perfect match between each individual dog and wanting family.
It takes a lot of work but these furry loyal friends mean the world to SCGRR. If your heart is ready to be captured, take a look at available Goldens like Mara: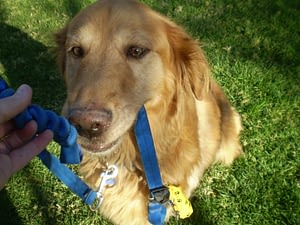 For a current list of adoptables as well as more about this rescue organization, the work they do, and happy tails, visit their website: http://scgrrescue.org/