America's Family Pet Expo is happy to have CanvasPet as an exhibitor at our April 25-27 event in Costa Mesa!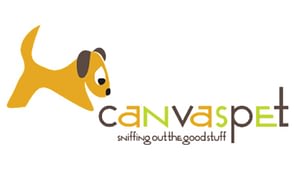 CanvasPet is an online retailer for the conscientious pet-owners and a great destination for organic and environmentally safe pet products. The special thing about CanvasPet is that 100% of it's net annual profits are donated to local and national dog rescue groups and no-kill shelters, like the Animal Society for the Prevention of Cruelty to Animals or the Irvine Animal Care Center. (Here's a complete list of shelters/rescues that have received support from CanvasPet purchases over the years: http://canvaspet.com/our-story/shelterrescues-we-support/).
With a mission to save as many pets as possible, CanvasPet believes that by selling high quality pet products, more pets can live happier, healthier lives contributing to building a more sustainable pet world.
By selecting only well-researched and reputable companies, CanvasPet insists upon a veterinarian approved standard for all their items. None of CanvasPet's edible products are manufactured or outsourced to China to ensure your pets safety. By being selective and only promoting companies with integrity and quality products, CanvasPet believes that they can shape the future of the pet industry.

So what's with the name? CanvasPet wanted a name that invokes a symbol that represents their values. Since canvas bags fit all of the requirements of sustainability, reusability, and the use of natural, organic ingredients, the company thought it best that to marry the two ideas together and came up with CanvasPet! Since they practice green philosophy in many aspects of their business, CanvasPet is always looking for ways to reduce the total carbon footprint and their name is a great reminder to them to practice what they believe in.
To learn more about CanvasPet, stop by their booth at America's Family Pet Expo on April 25-27, 2014!  You can also scope out their various products, including treats, food, clothing, bags, toys, and more on their website: http://canvaspet.com/our-story/whats-with-the-name/ or sign up for their quarterly newsletter to learn more about the CanvasPet Community: http://canvaspet.com/community/newsletter/.