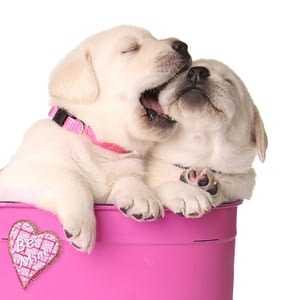 Let's face it.  Our pets are our family.  We adore them.  We love them.  And we love to adore them.  So with Valentine's Day coming up, a holiday set aside to celebrate love and adoration, why not celebrate the day with your pet?
If you like to bake, there are some great recipes for homemade dog and cat treats.  Make sure the recipes are from a reliable source and have ingredients that are safe for your pet's consumption.
Have a favorite dog park or hiking trail?  Take your dog out for some exercise!  Not only will your dog enjoy it, but it will get some exercise too!
This year, Valentine's Day lands on the Friday of a three -day weekend Take your pet along with you on a little get-away! Find a pet-friendly hotel and enjoy a little adventure together.
Spread the love beyond your pet!  Donate to a local pet shelter in your pet's name.
A new toy or treat from your favorite pet store is an easy way to show a little extra love.
And most importantly, take a little extra time to play, cuddle, and communicate with your pet! There is no better gift than your attention!