It's January.  After a Holiday season filled with treats and big meals, New Year's resolutions often focus on eating healthy and getting exercise.  But what about your pet?  Do you have a resolution to help your beloved animal stay healthy and happy?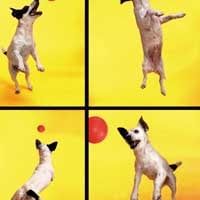 If you do not already have one, now is a great time to create an exercise plan for your pet (specifically dogs) so that he or she can continue to be active.  While we Southern Californians don't experience true winter weather that prohibits outdoor activity, it can still be easy to find an excuse not to exercise our pet.  Whether it be brisk morning or evening weather, too busy with work, lack of energy, etc., your excuses can hurt your pet's health and happiness.  So here are some ideas to help you stay on track:
Couple your exercise plan with your pet's – What better way to get stay motivated than to have an exercise partner!  Make time to take your dog for a daily walk, run, or hike to get exercise for you both.  If you can, schedule a time each and every day so that it becomes a part of your dog's schedule.    Soon, he or she will be anticipating the exercise and will help hold you accountable!
Find a friend – Need accountability beyond your dog?  Find a friend to exercise with!  If you have a friend that you can count on to meet with you and exercise with you and your pet, all the better, especially if your friend has a dog (just be sure they get along)!  Your pup will love the socialization just as much as you will!
Visit a dog park – if you don't want to include your dog in your own exercise plan, try taking it to the dog park.  Running around with other dogs could be just what it needs!
Incorporate playtime – whether it be at a park, in your backyard, or even in your living room (depending on the size of your dog!), a good game of fetch, tug of war, or the like is a fun way for your to bond with your animal and to get that blood flowing!
Do you have any exercise tips for pets to share?  Let us know on our Facebook page!