Do you ever wonder what makes a Police Dog such an effective part of a six-legged team of rescuers or crime fighters?  They love to play!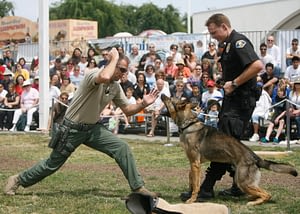 These Police Pups are terrific players and it is that trait in particular that makes them prime candidates for Police and Search Teams!  The best reward a Canine officer can earn is a chance for playtime with their trainer or a favorite toy.  When they're at work with their "Uprights" they're focused on the task at hand.  At home, they are a family pet.  Watch these Canine Officers at work and you'll appreciate how fortunate we are to have Canine teams to protect our communities!
Police and Search Dog demonstrations will take place April 19-21 during the 24th Annual America's Family Pet Expo at the OC Fair and Events Center in Costa Mesa, California.
Ticket prices for America's Family Pet Expo: General Admission – $13.00. Seniors 60 & over – $11.00. Children 6-12 – $8.00. 5 yrs and under – Free.   Tickets may be purchased online at www.PetExpoOC.org.