Are you ready to meet another four-legged family member of America's Family Pet Expo's staff?
Here's Lewey, pet dog of Judy Breton CMG, CKO, Director of Grooming & Special Services.  Lewey is a "brown dog" or a Basenji and greyhound mix.
In this picture, Lewey is trying to fit in her sister Beverly's bed (Beverly is a Yorkshire Terrier).  Despite having her own bed to lay it, Lewey spend a couple of hours trying to fit into Beverly's bed before finally getting settled!  What a character!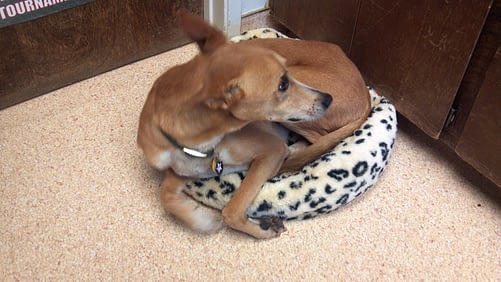 Stay tuned for more pictures and stories about our beloved pets! And please share pictures and stories of your own pets on any of our social media sites (Facebook, Twitter, and Google +)!