As we get closer to the 2013 America's Family Pet Expo, we thought it might be fun to let you get to know some of the inspiration of our staff members…our pets!  We love our pets and strive to showcase the love of our four-legged family members in events that pet owners can enjoy and learn from through our Expo entertainment, demonstrations, exhibitors, and adoption area.
This week, we'd like to introduce to Katie, the precious dog of the World Pet Association's Doug Poindexter.  Unfortunately, Katie passed away this past year, but Doug reflected on one of his favorite memories of his beloved dog:
Katie loved to "set" on the squirrels in our backyard. She would "sneak" up on them until they could wait no longer and then they would race away up a tree leaving her wondering how they knew she was coming. It was quite fun to watch and see how close the squirrels would let her get before scampering off.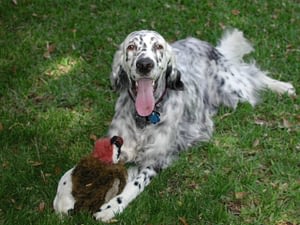 Stay tuned for more pictures and stories about our beloved pets, and feel free to post your own pictures and stories on any of our social media sites (Facebook, Twitter, and Google +).