Yes, America's Family Pet Expo's Adoption Area is full of cute, cuddly kittens and playful pups, but if you are thinking of adopting a new pet, there are many additional options to consider! Whether you are single and looking for an animal companion, part of a family and looking for an additional family member, or a teacher looking for a classroom pet, America's Family Pet Expo is the place to go to see the multitude of options that are out there for a fitting pet.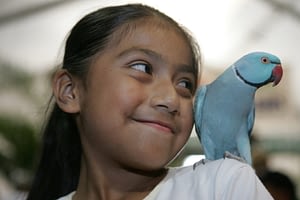 Have you considered a bird?  Birds are loveable creatures whose quirky mannerisms make it an interesting pet.  At America's Family Pet Expo, bird experts will be on hand to help you pick out the appropriate equipment and teach you how to care for your pet bird properly.
What about reptiles?  You will be able to find dozens of varieties of reptiles at America's Family Pet Expo's Reptile Show and Sale. From lizards, snakes, to tarantulas – of all colors, shapes and sizes – adults and kids will have the opportunity to interact with hands-on demonstrations, touching and holding. This will provide you with a wonderful opportunity to get to know what type of reptile may be right for you!
How about Fish?  Fish can be easy pets to care for with the proper knowledge and equipment.  Stop by our Aquatic Experience and the various fish exhibits to get a great look at the beauty and tranquility that fish can provide.  Studies have shown that gazing at aquarium fish actually reduces stress and subsequently lowers blood pressure!  Just another reason to look into purchasing some fish!
There are so many great options out there for domestic pets.  Visit America's Family Pet Expo to gain the knowledge and tools you need to make an informed decision on which pet could be the right companion for you!