If you are looking for something fun to do for your whole family, whether  two or seventy-two, America's Family Pet Expo is the place for you!  With face painting, a petting zoo, pony rides, pet entertainment, and, of course, cute cuddly pets…what more could you ask for in a family event? America's Family Pet Expo is bringing together all kinds of exciting elements to create an event for all ages.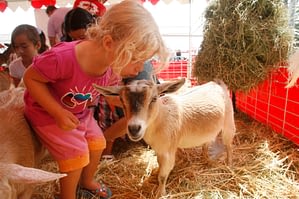 Have small kids?  Stop by the Petting Zoo for a chance to get up close and personal with adorable baby farm animals.  Baby bunnies, baby goats, baby sheep, and baby chicks, all kinds of babies will be there.  You and your kids with have the opportunity to hand feed these amusing creatures, pet them, or take your picture with them.
If your kids want something even more interactive, they can have the classic animal experience of a pony ride.  Riders from 16 months to 60 pounds are invited to explore the joys of horse riding. These gentle animals are trained and ready take you on a ride that will leave your little one feeling a little more cowboy (or cowgirl!) in an urban setting.
Kids of all ages and adults can enjoy the displays, the shows, and the demonstrations that are at America's Family Pet Expo!  JUMP! The Ultimate Dog Show, Splash Dogs, Avian Actors of Hollywood on Stage, the Aquatic Experience, and Police & Search Dog Demonstrations are just of the few of the family-friendly options that are available. So gather up your family members and come on down to the OC Fair & Event Center from April 20-22, 2012 for an enjoyable experience for all ages.  Also, be sure to visit www.PetExpoOC.org to purchase your general admission tickets with a $2 discount!